---
Zurich: press advertising concepts
The advert's brief was to encourage Financial Advisers to find out more about Zurich's business protection support materials.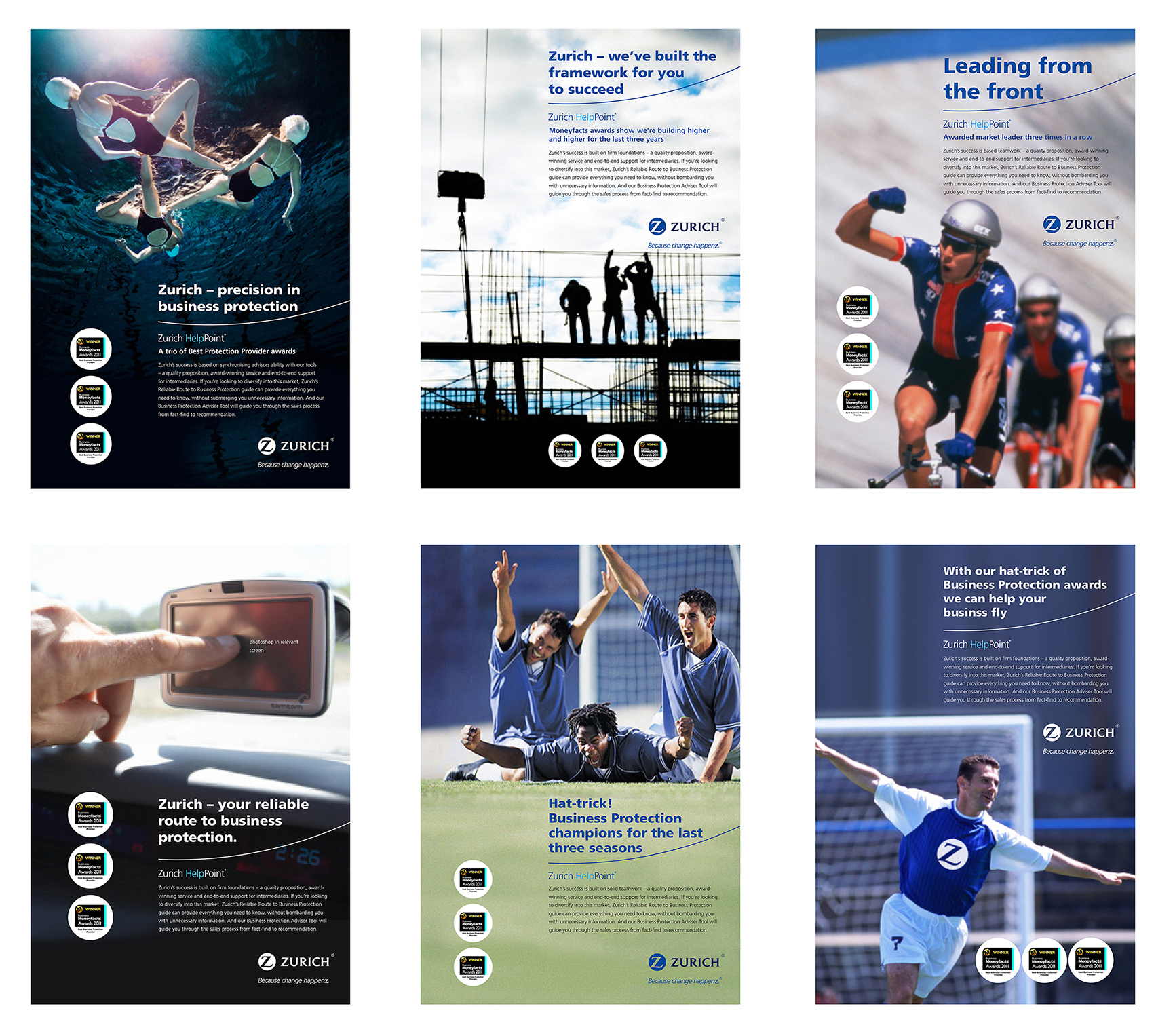 ---
Oxford Thinking legacy giving advert
A concept and copy to work with an existing image selected from the University Development Office's photo-library
---
Sterling financial advisor campaign
Working for RRD Creative to create B2B and B2C integrated campaign concepts for a Sterling ISA campaign aimed at financial advisors and their clients.  
Origami reflected the flexible, or reshapable nature of the ISA. First, my concepts... and then the pieces finished in-house by RRD.
---
B2C Brochure cover and one inner page – selling tool for financial advisors aimed at thier clients
---
B2B Letter from Sterling to financial advisors
---
Online information, available only to financial advisors through their BSB portal 'Zurich Helpline'
---
Zurich: Total Cost of Risk strategy
Due to local government budget cuts and the increased presence of procurement teams in the tender process, Zurich Municipal were changing to solutions-based interaction with local authorities with the aim of influencing the tender process by educating local authorities about uninsurable risk management, analysing risk and supplying solutions – a marketing approach based on added value rather than cost of the insurance premium. I worked with account managers at RRD Creative to plan the initial strategy for local authority end-clients.
---
Farmplan brand audit
Having already designed new software CD packaging I was asked to audit the Farmplan brand and present concepts to update the heavily coloured current look. The white space, introduced with the packaging was to be kept along with the corporate yellow. The full presentation concentrated on image type – non chocolate-boxy 'real' rural images on a budget – and clarifying the company's credentials and positioning within the farming community, showing layout and emphasis variations. I wanted the digital farming tools to be presented as clear, calm and business-like while relating to rural clients. Farmplan is part of Reed Business Information who also own Farmers' Weekly magazine.
After cliant input the yellow was strengthened and the following press advert produced
---
Great Western Hospital positivity campaign concept
Concepts for NHS campaign. Though public facing the true target audience was NHS staff – the hospital wished to promote a positive attitude to create a friendlier, positive working environment, and to encourage staff to 'go the extra s/mile'.
Below are pages from my presentation.
---
Independent financial advisor conference – Zurich plc
Concepts created for a Zurich campaign – launched at a trade conference – aimed at promoting thier HelpPoint portal to independent financial advisors. HelpPoint advises and guides IFA's through Zurich's offer, the lure was a luxury trip starting in London. The solutions was based around the routemaster bus and London Transport map – exhibition stand, brochure and web banner adverts, maintaing the Zurich brand elements of circles and 'the smile curve'. 
Initial concept
---
Concept development
---
And the finished products, further developed and produced by the RRD Creative studio