---
AVCT: Re-framing the ask
Arnos Vale Cemetery Trust had been born out of a resolute community campaign to save and restore dilapidated historic site which was re-opened to the public in 2010. Arnos Vale was developing its business model and community relationships, yet its local importance had not been recognised in AVCT's case-for-support communications, which still concentrated on the original campaign slogan "saved but not safe".
The cemetery is: heritage, architecture, history, education, nature conservation, local park, café, arts venue, working cemetery, wedding venue and activities for children and the community. The common thread was the people to whom the site had meaning. With Arnos Vale situated in a deprived ward, I put them at the centre of our funding applications, and case-for-support brochures, using more engaging language; emotive images and infographics to tell the story.
---
Case-for-support document
A double page spread from an application to a grantmaking gives quantitative visitor information, emphasised by the inforgraphic, lists achievements (funders often look favourably on organisations who are working to help themselves) and illustrates community engagement.
---
Special interest case-for-support document
The Cemetery safeguards a memorial to the 'father of modern India' Rajah Rammohun Roy. This case-for-support document was written to build awareness within the Indian community, and historians. Copies were sent to the Indian High Commissioner who after his visit to attend the annual commemoration ceremony. A donation of £3,500 was received from a prominent British-Indian businessman to whom the document was sent.
---
University of Oxford: re-framing the message
Oxford – a university confident in its history and reputation – began its proposal and report documents with a 'boast' about its 800 year history and credentials. I felt it important they addressed their audience and emphasised the partnerships they wish to build with prospective donors. For example, for my proposal to the High Commissioner in Jamaica written in the anniversary year of Jamaican independence and in the run-up to Usain Bolt's triumph at the London Olympics (2012), I found images of the athlete and prominent celebrities and tailored the introduction to flatter the nation as much as the University. For the Wallenberg report, shown below, I discovered that Wallenberg ancestor, Raoul, was due to be commemorated with a Swedish postage stamp for his part in saving Jews from the Holocaust – to further show that Oxford University respected endeavours away from the dreaming spires.
The colleagues I joined in the Proposals Team were excellent wordsmiths with journalistic backgrounds in contrast to my background in design. Working within loose brand guidelines I swapped nebulous Oxonian images of gargoyles and punts, that communicated far less to the recipient that those working at the University, for images that resonated with the target audience and brought together more cohesive layouts together with images that matched highlight colours and fitted the layouts.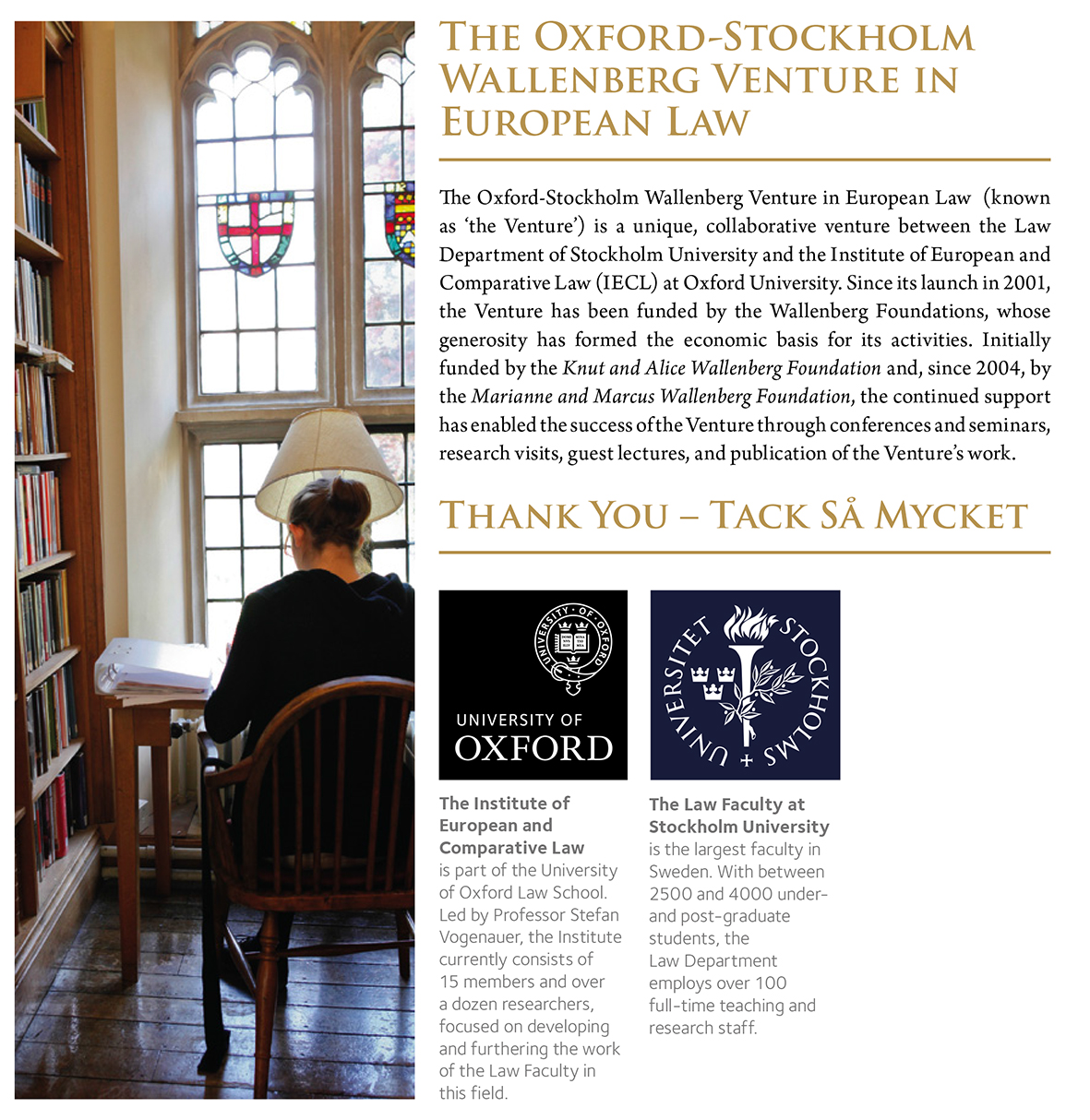 ---
Oxford Thinking: philanthropic proposals and donor reports
The University of Oxford is one of the world's most respected, however I found its Oxford Thinking funding campaign's proposals a little arrogant: full of photos of Oxonian architectural details and pompous texts explaining the establishment's excellent credentials, the documents assumed recipients 'knew' the University of Oxford (and were already impressed!). I created philanthropic proposals for government officals in developing countries, high-net worth individuals and large corporations which focused on how Oxford Thinking reflected their own accomplishments; included more images of relevant people in context, and ensured images were captioned. I tailored each document's introduction to its recipients and gained positive feedback
"I wanted to let you know that they loved the proposal you did. In fact the comment was that it was one of the best written proposals they had ever received."
Lois Hargrave, Senior Campaign Executive, Bodleian Libraries
"Kate's work is always first-rate – well-crafted, engaging and effective. She has a quick and thorough grasp of the needs of a project, and fulfils the brief with timely competence and a creative flair that makes it more compelling."
Chris Floyd, Senior Proposals Officer
---
Geovey: funding proposal for business
Each year Geovation (a collaboration between the Ordnance Survey and the Land Registry) invite entrants to compete for funding for a map-based business initiative. The challenge in 2015 was "How can we enable people in Britain to live in better places?". Geovey (GIS software public engagement tool) was one of ten competing projects. After winning approval, the second stage was to submit a business proposal for Geovation to decide how much funding each of the winners would receive. My role was to edit the content and flow of the business's original text document, flag any jargon and lay out the information clearly using illustrations and diagrams. Geovey won the largest percentage of the available funding – 30%. Find out more: https://www.nautoguide.com/geovey.html
---
Two example pages from Geovey's successful business funding proposal
---
On receipt of the business funding Geovey asked me to produce a brochure outlining its services and its potential impact on community communication – again, two example pages below
---
Network Rail presentations for further project funding
The research I did as part of the ERP Delivery and Management Team (see my pyramid diagram) in conjunction with Risk Management Consultants represented a change in the working culture within Network Rail. Development of the new Control of Work processes for the railway industry neccessitated gaining approval from senior management as the project progressed. The presentation materials helped clarify complex processes and structures, aiding stakeholder buy-in at key stage meetings and wider consultation panels, to release next-stage funding and strengthen management support.
---
Project overview diagram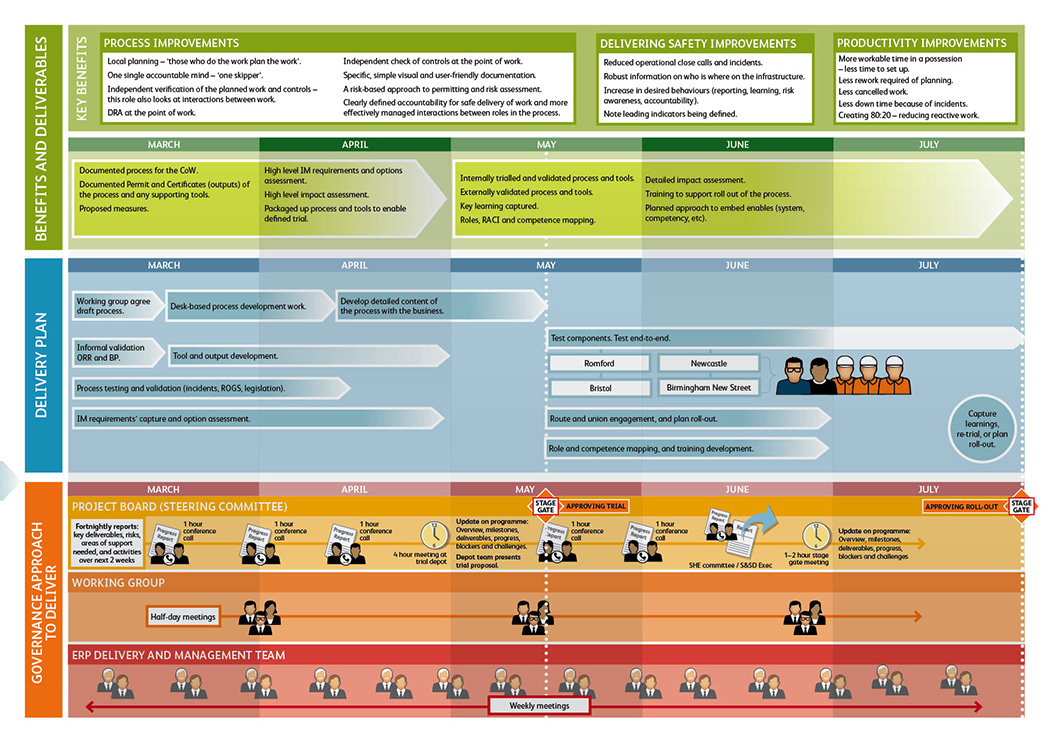 ---
New process plan visualisation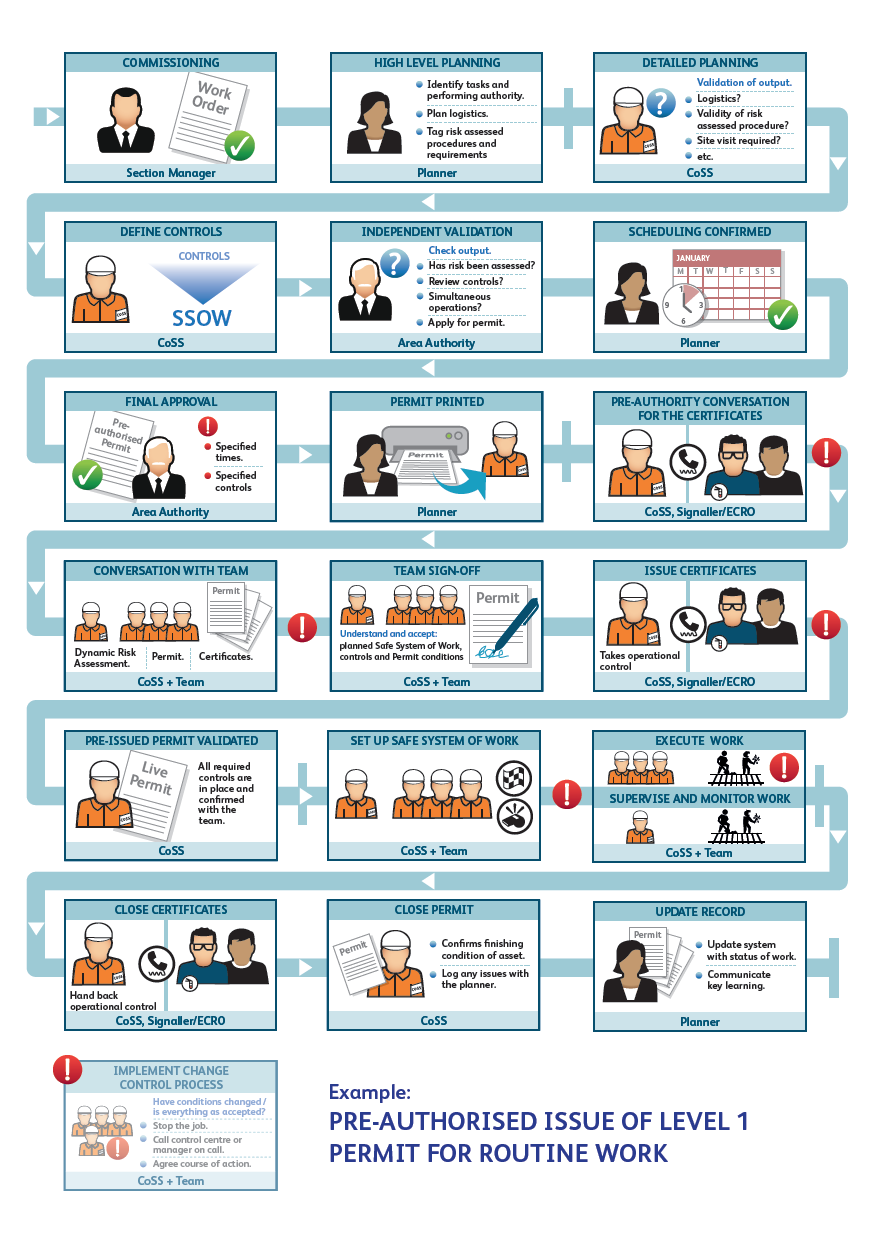 ---
Visualisation of new roles and responsibilities within the safe stystem of work programme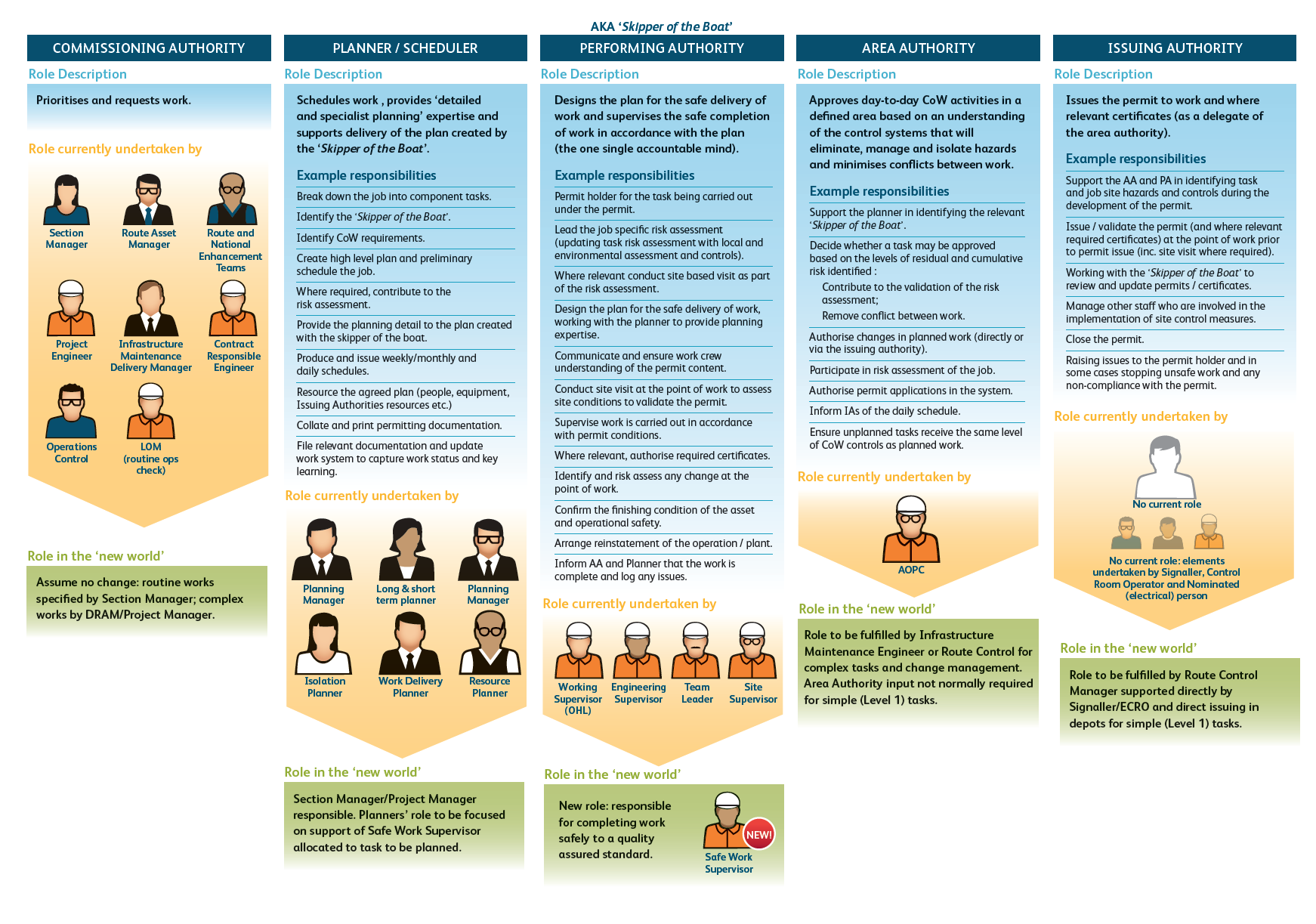 ---
I wrote interim reports during the project as well as a final report to aid the next stage of the project – creating the electronic system to integrate control-of-work processes.