---
Oxford Thinking campaign: philanthropic proposals and donor reports
Oxford Thinking is the campaign to raise funds for the whole collegiate university, from student bursaries to capital infrastructure. Tailored one-off and short-run documents were produced for philanthropists and foundations.
"Kate combines excellent design skills with great copy-writing ability. She is a clear strategic thinker, able to negotiate complex projects and produce outstanding results on time and on budget." Sophie Hiscock, Head of Campaign Communications
This is an example of a donor report where I included information on the partner foundation, its logo and, on the covers, sourced photos of Stockholm to mirror Oxonian images to change the focus from Oxford University to collaboration to meet all recipients' expectations. The colours and fonts follow the Oxford Thinking brand guidelines
"Kate's work is always first-rate – well-crafted, engaging and effective. She has a quick and thorough grasp of the needs of a project, and fulfils the brief with timely competence and a creative flair that makes it more compelling." Chris Floyd, Senior Proposals Officer
---
University of Oxford Bodleian Libraries: funding for conservation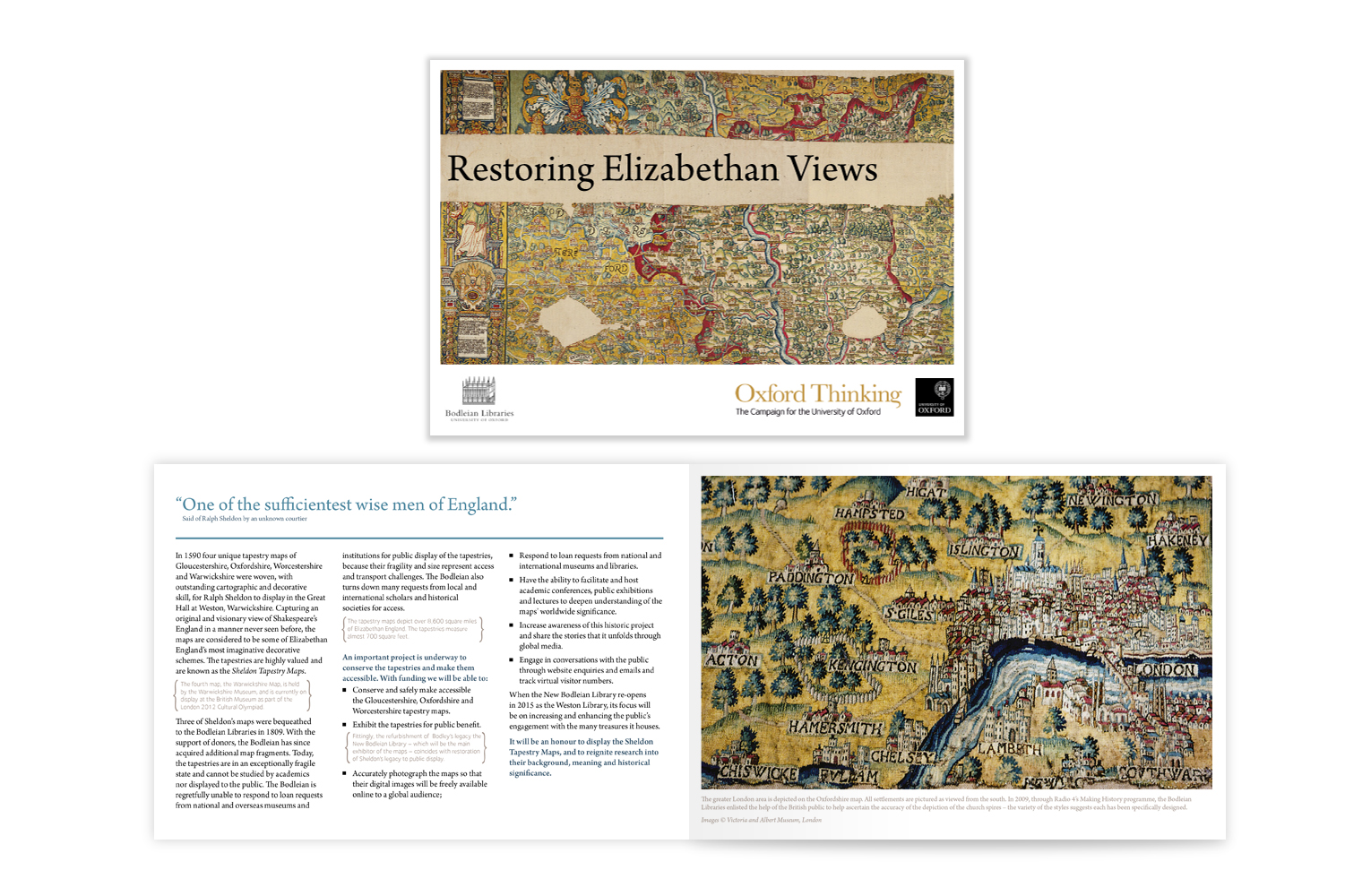 Eight-page A5 brochure to introduce specific funding campaign to conserve rare Elizabethan tapestries to supporters of the Bodleian Libraries. This was a successful fundraising campaign which saw donations from JP Getty Jr Charitable Trust and the Drapers' Charitable Fund amongst others. You can read about the restoration on page 10 of the Oxford Thinking campaign's 2015/16 annual report: https://issuu.com/oxfordalumni/docs/oxford_thinking_campaign_report_201_bc71f4d672b465
"I wanted to let you know that they loved the proposal you did. In fact the comment was that it was one of the best written proposals they had ever received." Lois Hargrave, Senior Campaign Executive, Bodleian Libraries
---
Oxford Thinking legacy giving advert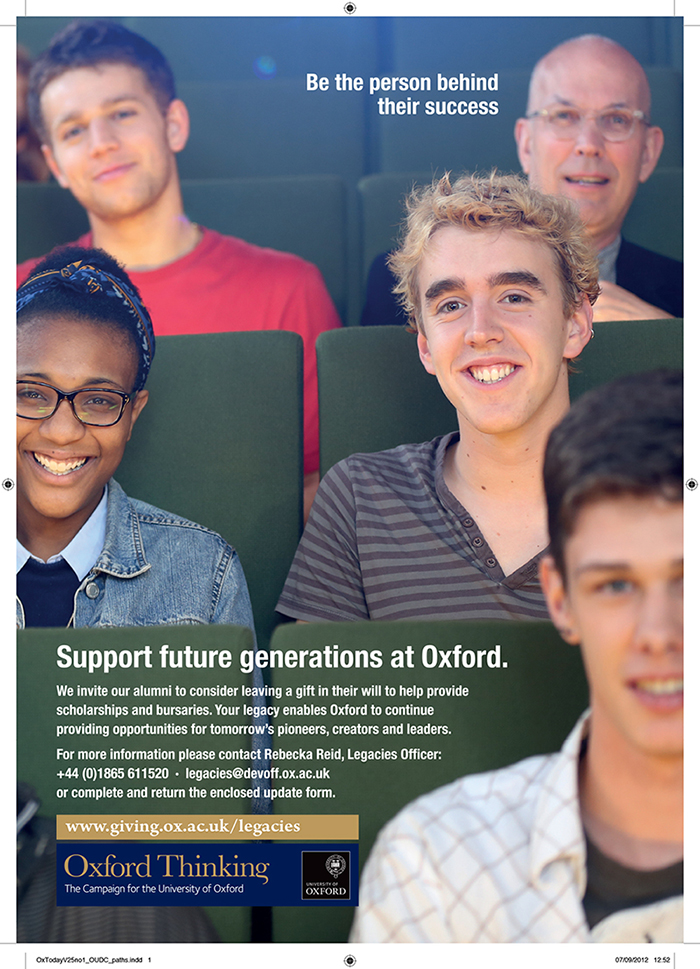 A concept and copy to work with an existing image selected from the University Development Office's photo-library
---
Oxford Thinking campaign annual fund mailing
Analysis of recipients' response to the first (2012) of my two Annual Fund mailings showed that, compared with the previous year, participation was increased by 41.5% and the number of new donors was twice that of previous year.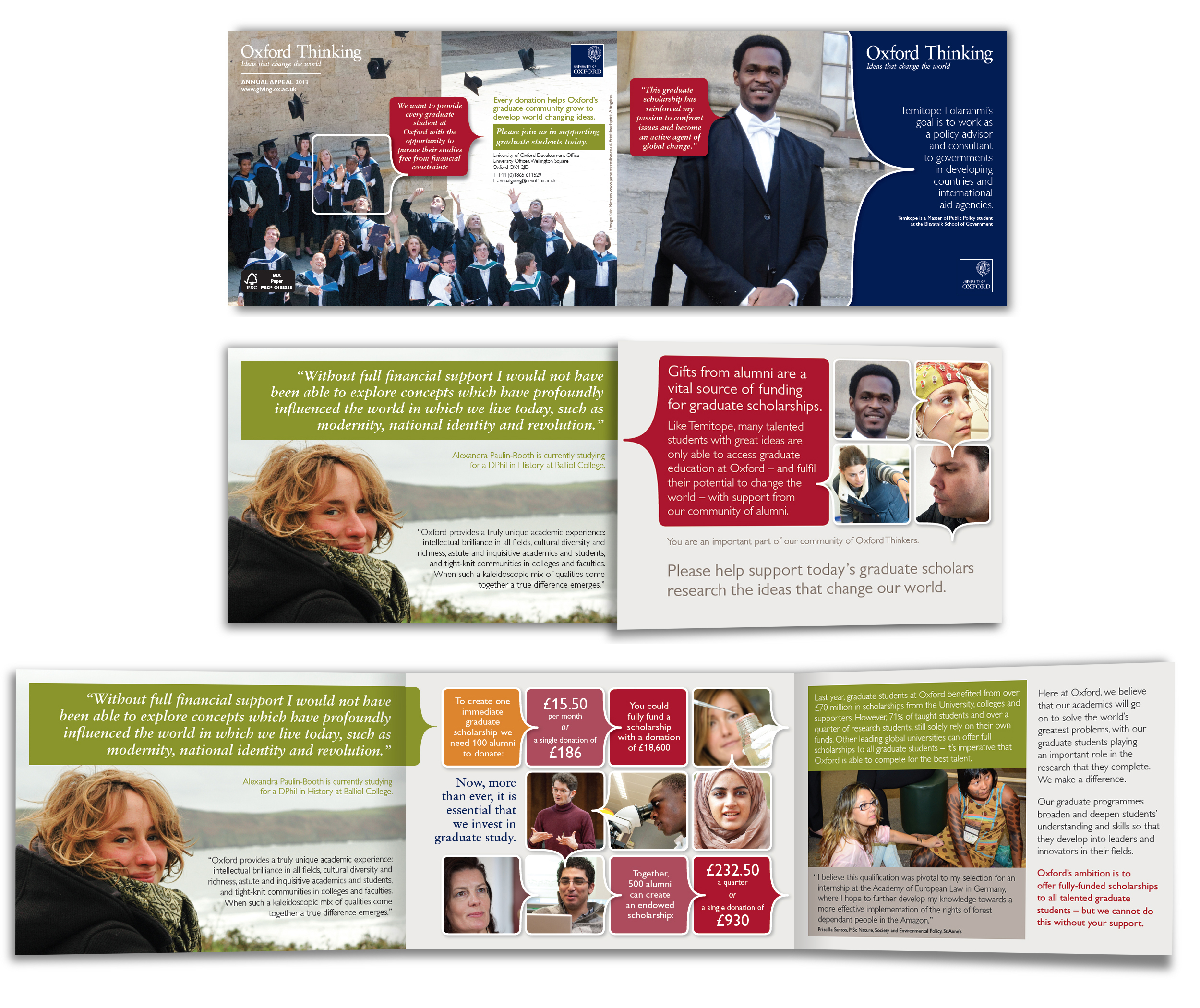 Tri-fold, 6-page, A5 leaflet accompanied by a donation form.
Kate is an absolute joy to work with. This is the second year that we have worked with her on our Annual Appeal, which involves complex segmentation and a large number of stakeholders. Kate is patient, flexible, and always has a solution to a problem. Her expertise in design, print and creative writing are exemplary. Kate's ability to take a project brief and turn it into an outstanding piece of work really does make big projects easier – and more fun! I cannot recommend Kate highly enough. Becki Mckinlay, Head of Individual Giving, University of Oxford Development Office