For sale in my shop, Bobbydazzlers – a 48-page novelty book crammed with 66 specimens, with a foreword by Tom Blake and pseudo-science statistical diagrams. Ideal birthday gift, stocking-filler or secret Santa gift. Details below for bookshops and retailers – please email me. 
Look inside here: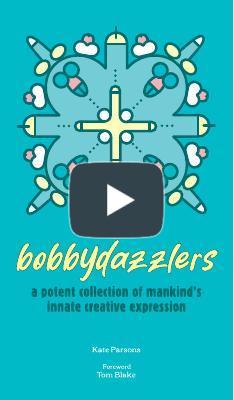 PUBLISHER: Independent Publishing Network
ISBN: 978-1-80352-769-7
BINDING: Softback
PRICE: RRP £6.99
PAGES: 48
ILLUSTRATIONS: 65 colour photos and diagrams
SPECIFICATION: 180mm x 105mm
PUBLICATION DATE: May 2023
READER INTERESTS: Grafitti, urban art, street art, naïve art, humour, novelty
Title: Bobbydazzlers
Subtitle: A Potent Collection of Mankind's Innate Creative Expression
By Kate Parsons and Foreword by Tom Blake
 Key Features:
· Humourous collection of phallic street art
· Curated collection of found nob-and-balls grafitti
· Pseudo-science statistical analysis diagrams
Description:
An annotated photographic collection of naïve, instinctive, phallic treet grafitti. No-one knows, or cares, why people (generally men) succumb to the urge to draw their bits in public places, but it makes us smile. The drawings are "wonderfully infantile", comic, phallic genius. Nobs-and-balls represent a long tradition, an international instinct: artful representations of nobs-and-balls date back over 25,000 years. Every nob-and-balls is an (ironically) impotent mark of rebelliousness drawn by flippant, cocksure artists.