---
Emmaus Bristol newsletters
Co-written with the CEO and designed by Kate, this newsletter is sent out by email (with a link to the flippable, clickable version below) and by post as an A3 to A5 cross-fold newsletter.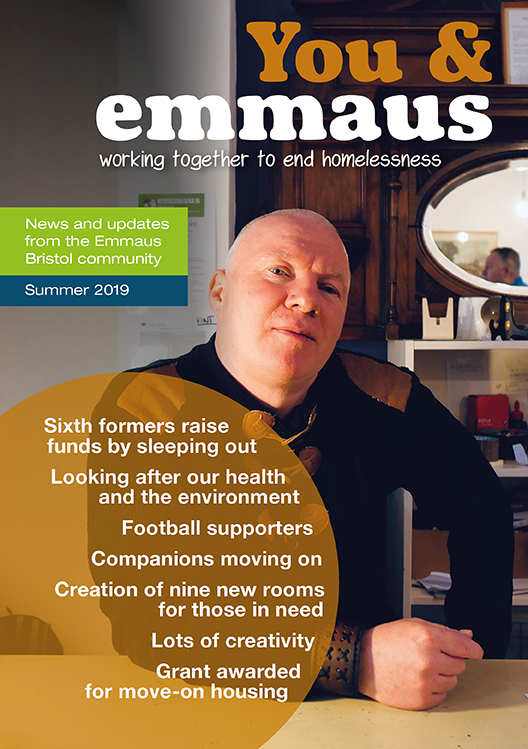 Front cover of Summer 2019 page shown above; click below to read the Winter 2021 newsletter online.
---
Emmaus Bristol referral leaflet
This is the emailable pdf version of a bi-fold leaflet (the pages are rearranged so panels read from left to right on-screen). The audience for the leaflet is people who are homeless, or at risk of homelessness, and referral partners. The content was planned by the senior support worker and then re-written to remove in-house jargon and ambiguities, and to add clarifications that anticipate potential questions, and quotations 'from the horses' mouths'.  The text addresses 'everybody', to talk to rather than about people who might need support. The design complies with Emmaus UK brand guidelines
The referral leaflet clearly sets out Emmaus's unique response to homelessness and will be a useful tool to accompany donation letters to individuals and small trust funds.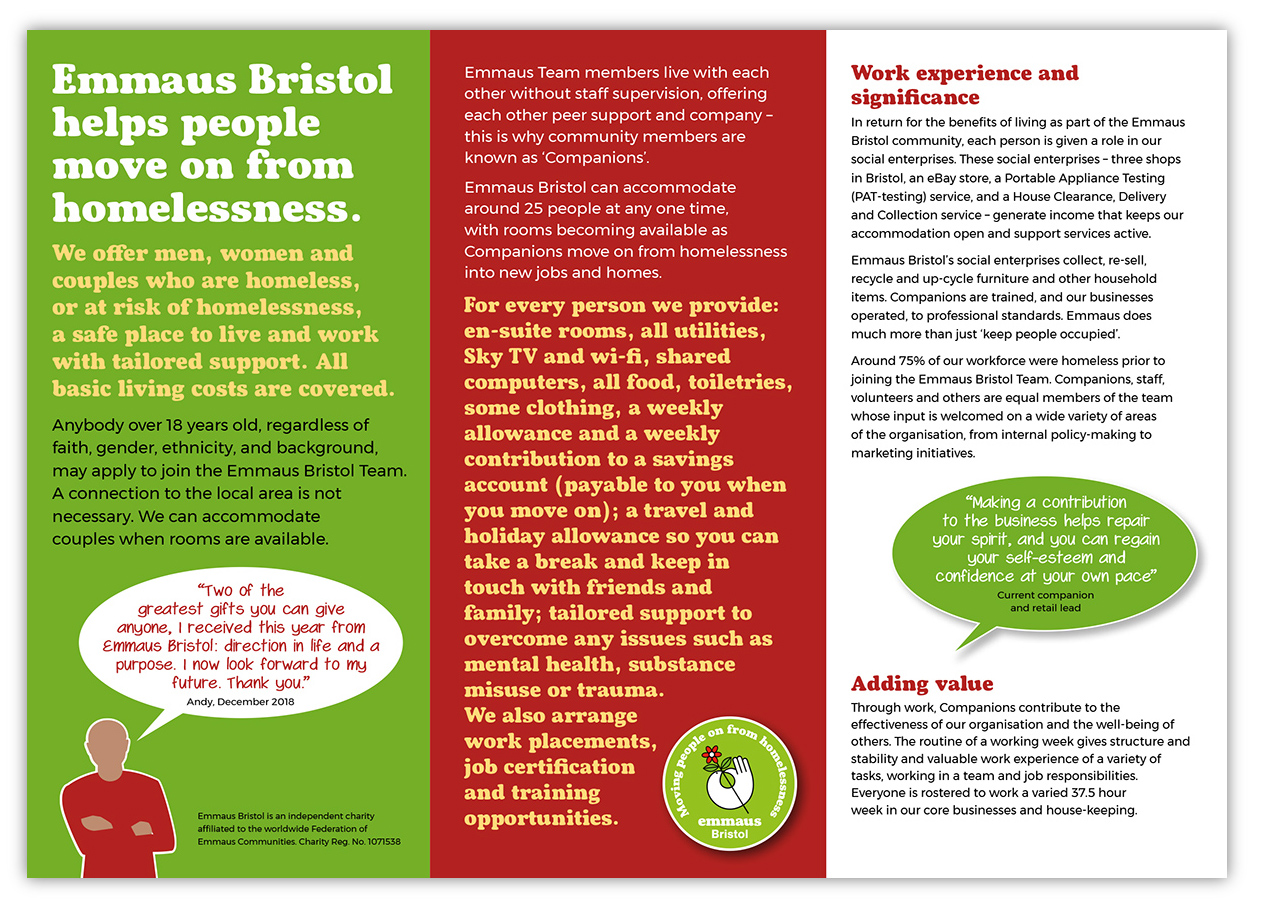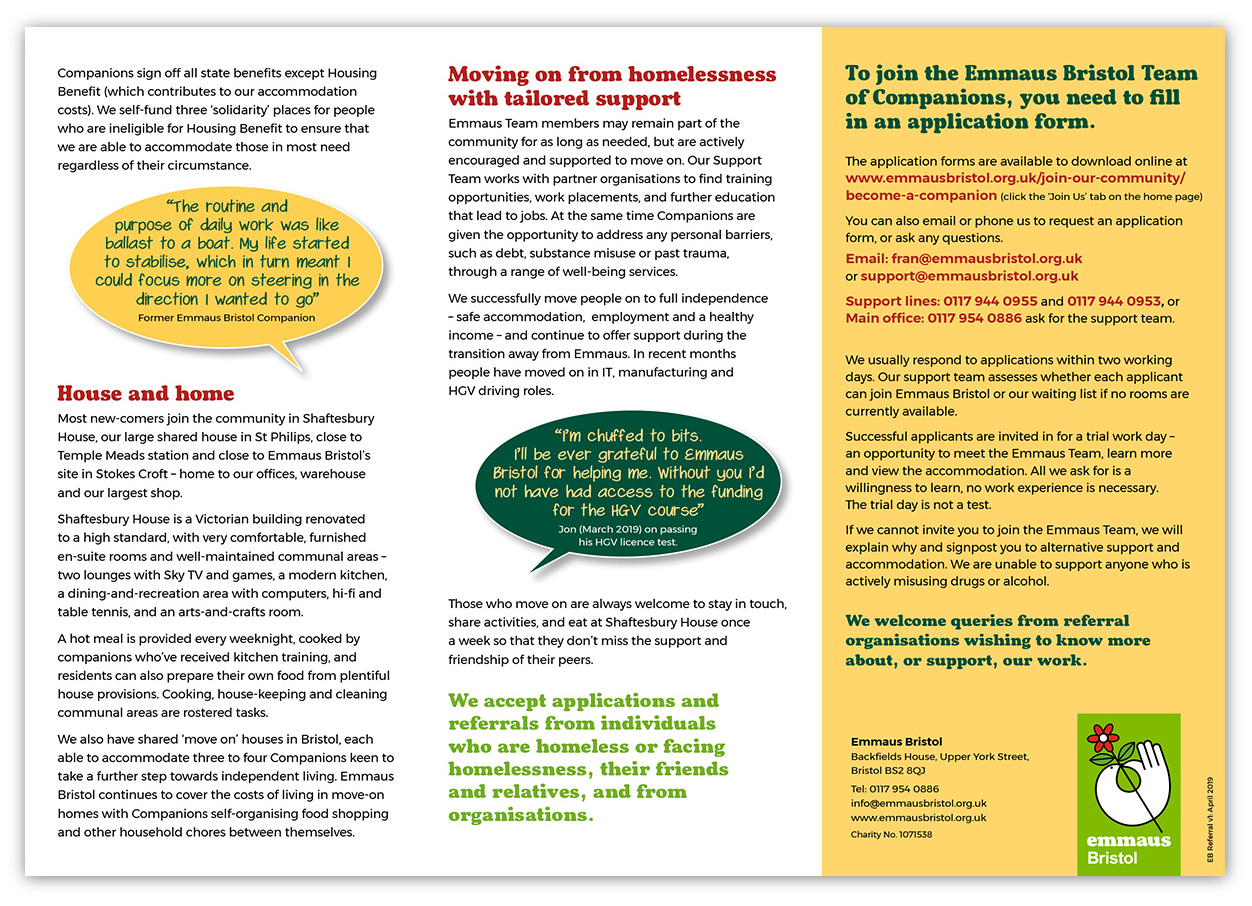 ---
Emmaus Bristol communications review
The charity's communications had evolved without anyone at the helm. Nationally, Emmaus is not well known. Though I had already produced some communications materials, the big task was to create a new website. Finding out how your organisation is perceived is a good starting point to improving communications. This questionnaire asked people inside the organisation – service-users, staff, trustees and volunteers – about their thoughts and experiences of the charity's 'public persona' and how it may be improved. Another version asked similar questions of people, such as supporters and charity shoppers, in contact with Emmaus Bristol.